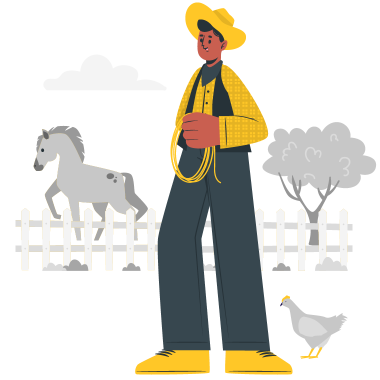 Farmers and ranchers: Ever wonder if your farm is at risk because of a lurking legal problem? Do you wish you knew where to turn for the answers?
Those answers aren't always easy to come by — especially for the most innovative, direct-to-consumer farmers. Discovering Resilience is a legal workshop designed just for you. This workshop empowers farmers and ranchers with the legal knowledge and skills you need to resolve legal vulnerabilities. You'll walk away from this five-session, highly interactive, and producer-focused workshop ready to implement your own legal action plan and find legal answers with confidence. Plus, you'll have a group of fellow producers to keep you on track.
Discover the 10 legal best practices in 5 core areas of farm law
Including Business Structures, Insurance, Employment Law, Land Leasing and Purchasing, & Diversification (value-added and agritourism)
Answer key legal questions for your farm or ranch.
The most hands-on farm law workshop you'll find:
Here is what past participants have to say about Discovering Resilience:

Yolimar Rivera Vázquez
"If you want to protect your business and learn about the creative power you hold to navigate the system, then you should take this class."

Michelle Week
Good Rain Farm
"Take this workshop! You must, you need to! It'll help you address risk before you end up in a court room. I absolutely loved my time in the course and greatly appreciated the groups questions and the topics were so clearly discussed. Extremely helpful in clarifying risks and helping me better articulate how we manage our risk to consumers. Also helps us better articulate why we don't allow volunteers or other activities in customer service language."
Libby Reed
Orange Star Farm
"This workshop provides the tools for you to better advocate for yourself and your business and demystifies law documents and makes them accessible for us to use to feel more sure about the present and the future. It also allows for practicing clear communication and creating written documents as a way to assist with and guide responding to issues when they come up."

Noa Kay
Songbird Haven Farm
"I felt like this workshop really met my current needs/challenges. I really liked the combination of pre-meeting videos/activities and live information sharing and group activities. The Action Plan workbook is great. There was also plenty of time for questions."